Pinterest has done it again, it inspires pretty much everything I do, that may be a little extreme, but I do feel like I am referring to pinterst qutie often. This week I re-created an outfit and made a Banana Cream Pie. The pie was To.Die.For. I dream about it at night it is that good.
First up is the pie. You can find it pinned
here
.
And here is my pie:
I've realized the pie pictures aren't that exciting, but trust me it tastes oh so good.
And second is the outfit pinsperation found
here
(Her picture looks so much better haha)
And the recreation...
BTW notice the string going between the boots? I ordered these online and I ordered the WRONG color, I am going to exchanged them, but I still used them for the picture :) I am not a very experienced online shopper, this is the first pair of shoes I have ever bought online and I managed to mess it up. Oh well... live and learn right. I am linking up over here:
&
Ma Nouvelle Mode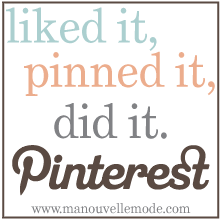 Have you created anything from pinterest?
What do you look for on pinterest... fashion, recipes, crafts, etc?